Cardi B: A Modern Day Cinderella with a Twist
Born Belcalis Almanzar, but known to the world as Cardi B, she is here to take the world by storm and the hip-hop world is…
Born Belcalis Almanzar, but known to the world as Cardi B, she is here to take the world by storm and the hip-hop world is rooting for her. I mean how they could not? From her days of telling us that a "hoe never gets cold" on her Instagram page, where she has just over 10 million followers, to topping the Billboard charts where she's breaking down barriers- Cardi B has remained true to herself, and that may be the biggest reason she's having such success.
In a world where most people paint a false image of who they are in order to make it to the top, it's refreshing to have Cardi B show us that you don't have to change or sugarcoat who you are as a person for people to like you. In 2013, the South Bronx native began gaining attention from the funny videos she uploaded to YouTube. Cardi, who was stripping at the time, would make videos that were capturing the attention of many and creating a fan base for her.
In 2015, Cardi B joined Love and Hip Hop New York and she continued to be herself, on the reality TV show that knows how to bring the drama. She introduced herself to the world as a "regula, degula, schmegula girl from the Bronx" and her antics and gestures began to make her one of the show's most likeable characters. This later resulted in having memes made in honor of her candid comments such as, "if a chick beef with me, it's gone be foreva"
During her stint on VH1's Love and Hip Hop, Cardi shared her true passion, which was to make music. A veteran on the show, Peter Gunz, along with Dj Self refused to help her pursue her passion by dismissing her due to her past of stripping and her persona that they condemned as "too hood." DJ Self even chose to work with another artist, Mariah Lynn, who also was a member of the Love and Hip Hop cast, over Cardi B.
This all could have been grounds for Cardi B to give up on her music, since those she looked to for help cast her out, but she started working even harder to make her dreams come true. Cardi has continued to make music that we can ride out to and if you haven't tuned into her mixtapes, you should quickly make yourself hip because she is definitely on her way to becoming the next queen of rap.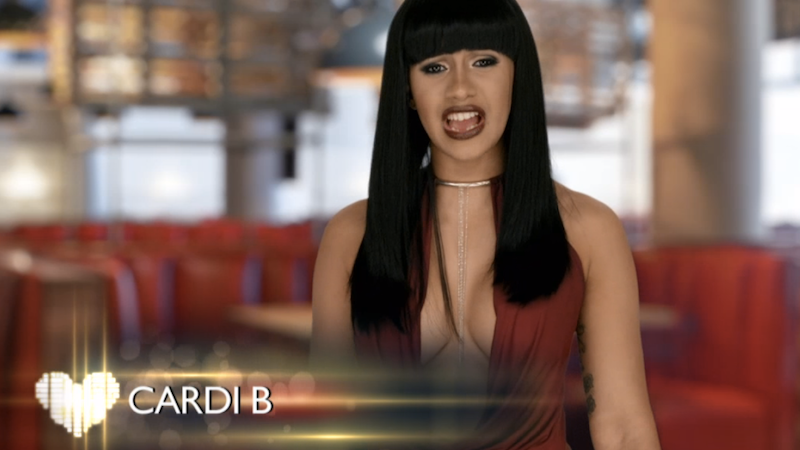 This past week, Cardi broke history by becoming the first female rapper to top the Billboard Hot 100 without a feature from another credited artist in nearly 19 years with her summer jam, "Bodak Yellow." The irony in all of this is that prior to Cardi, the only other female to have a solo rap song reach No. 1  on the  Billboard Hot 100 was Lauryn Hill for her classic "Doo Wop (That Thing)," a song that essentially talks down on women like Cardi B.
In a video posted to Instagram Monday, where family and friends threw her a surprise party to celebrate her success, Cardi in the midst of all the celebrating breaks down crying and we even get a glimpse of her grandmother rocking out and rapping along to "Bodak Yellow" which certainly should give you all the feels because she has persevered and worked her way up to the top.
Just before the release of her hit single, she signed a multi-million-dollar deal with Atlantic Records and ever since then it's been a summer of winning for the 24-year old rapper. Drake brought her onto to stage at OVO fest, Beyonce' gave her the Midas touch at Made in America, and even the legendary Janet Jackson has paid homage to Cardi B with "Bodak Yellow" mashed up with her hit single "What Have You Done for Me Lately" during her tour.
Cardi B is our generation's modern day Cinderella, who isn't afraid to open up about her harsh past. Her past where she used stripping to escape an abusive relationship, pay her way through school, and provide for her family. She's become a business woman collecting her coins, one deal at a time, and her wins are like wins for us because she's shown that you don't need much to work hard to make your dreams a reality. She constantly reminds us to get up, get out here and make money moves until we achieve our life's goals and fulfill our dreams, and that even the haters will turn up to your success.
---
Disclaimer: The views, opinions and positions expressed by the authors and those providing comments, opinions on this website are theirs alone, and do not necessarily reflect the views, opinions or positions of M-Lifestyle and their affiliates. M-Lifestyle does not claim ownership of any images used, unless otherwise specified.